How to Restore Water-Damaged Photos Like a Pro
Water damage can be quite frustrating, especially when it affects cherished photographs that hold precious memories. This can happen due to a humid environment, condensation, a leaking roof, or flooding, causing photos to fade, warp, or become covered in unsightly stains and even mold. However, it is possible to restore water-damaged photos! You just need the right techniques and tools to bring them back to life.
Here we'll show you how to save water-damaged photos — first manually at home, then with the help of special restoration software — and give you some tips on preventing a similar situation in the future.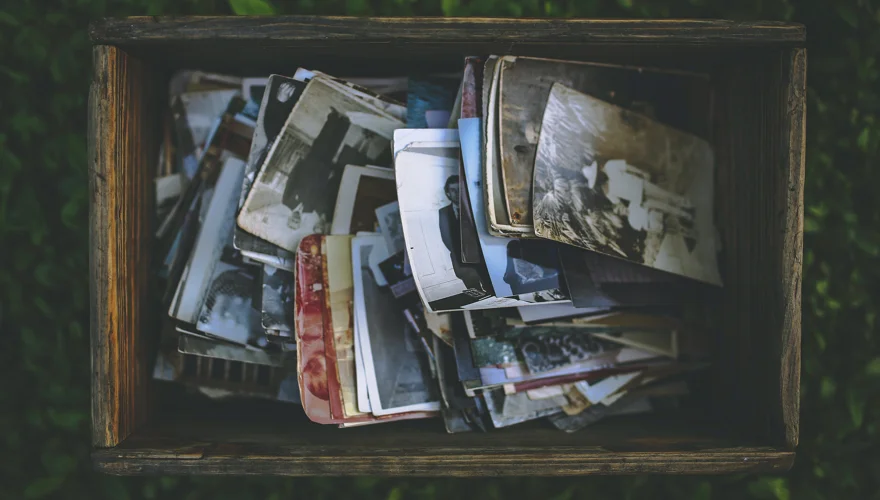 How to Repair Water-Damaged Pictures
Ready to save your water-damaged photos? Take a look at our guide below and find out what you can do to bring your cherished images back to life:
1. Prepare All the Necessary Equipment
Before you begin, it's essential to gather all the necessary equipment. Here are the items you'll need for water-damaged photo restoration: distilled water and a soft-bristled brush, all of which can be found at most home improvement stores. You'll also need disposable aluminum foil pans, which are commonly used for baking and are available in most supermarkets.
2. Place the Water-Damaged Pictures in the Foil Pan
Pour the distilled water into two aluminum foil pans. Put your water-damaged photos into the pans and let them sit for a few minutes. Don't worry, this type of water is great for cleaning fragile pictures because it doesn't contain impurities that could further damage them.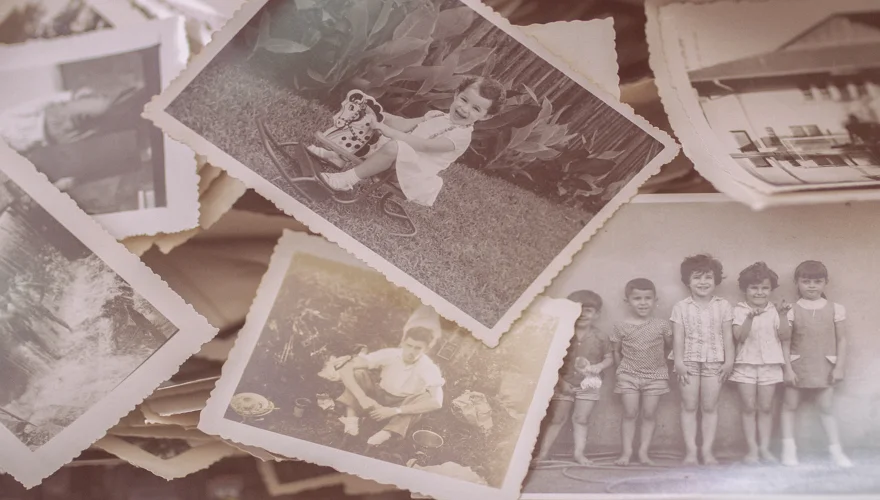 3. Brush Away the Dirt
Gently sweep away any dirt with a soft-bristled brush. Don't apply any pressure to the surface of the photo to avoid further damage. Then, carefully transfer the water-damaged pictures to the second pan with clean distilled water to rinse off any remaining dirt. Leave them in the water for up to 30 minutes.
4. Leave the Photos to Dry
Carefully remove the photos from the water and place them face up on a clean, absorbent surface like paper towels. Avoid using newspapers or printed paper towels, as the ink may stain your damp images. Change the absorbent paper every hour until the pictures are completely air dried.
Word of Advice
Want to preserve your restored pictures for future generations? Just follow these handy tips on
how to store old photos
properly. They can help you keep your precious photocopies in good condition for many years to come.
5. Digitize Your Photographs
After all the manual actions are done and your pictures are in better condition than before, you should now transfer them to digital form. Check out how to digitize photos and at least save the digital copies from possible water damage in the future. Better yet, you can continue restoring water-damaged photos with some image restoration software.
6. Restore Water-Damaged Photos with PhotoGlory
Want to bring pictures back to their original look or even give them a modern touch? Try fixing water-damaged photos with PhotoGlory, powerful photo restoration software that lets you get rid of all the nasty imprints of time and restore vibrant colors in a click. You can crop torn edges, remove stains & scratches, colorize black-and-white pictures, reassemble ripped images, and much more. Check out the article about how to enhance old photos and get a walkthrough of the entire photo repair process.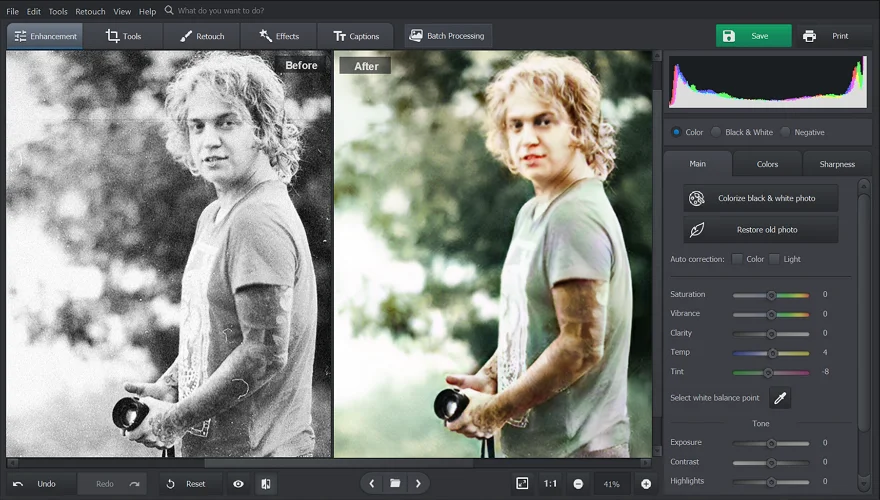 Can you restore water-damaged photos? Sadly, a complete restoration is not always possible. But now you know how to minimize the damage and give your photos a longer life. Besides, with a digital restoration method, you can achieve more sophisticated improvements than with manual ones.
How to Keep Your Photos Safe from Water Damaging in the Future
Better safe than sorry, so it's crucial to take precautions to protect your photos from water damage in the first place. Here's what you can do to avoid such an issue later on:
Store your photos properly. For safe storage of restored photos, use albums with acid-free photo corners or archival photo sleeves and keep them away from areas prone to leaks or flooding.
Have digital copies. Scan and save photos to your hard drive or cloud storage to ensure that even if the physical copies are damaged, you will still have access to your cherished memories.
Act as fast as possible if such a disappointment happens again. Immediately remove the photos from the water and follow the manual restoration steps above. Prompt action can minimize the amount of damage and increase the chances of saving your precious pictures.
As promised, we've shared with you how to restore water-damaged photos manually without much hassle. You now also know the way to bring your treasured images back to life on your PC. With PhotoGlory, you can restore your family pictures with a few clicks and cherish these memories for generations to come thanks to the powerful AI-driven tools in this beginner-friendly software.