How to Color Correct Old Photos Without Photoshop
Were you looking through your old photos and noticed that their colors faded away? Blacks turned into washed gray, whites got tinted with yellow, blue skies got bleached. How to color correct old faded photos? Is it possible without using a complicated image editor like Photoshop?
The answer is - yes! Just start PhotoGlory, a user-friendly program for restoring old photos. It offers you 3 different yet simple ways for correcting faded colors. There is an automatic method performed in a click, a manual way that uses a convenient brush, and fine adjustment which involves the retouchers' secret weapon.
Still sounds like a puzzle to you? Don't know what method you should pick? Relax, have a tea and read on to discover a step-by-step guide for each of them.
Let's start with an example of color correction done with PhotoGlory: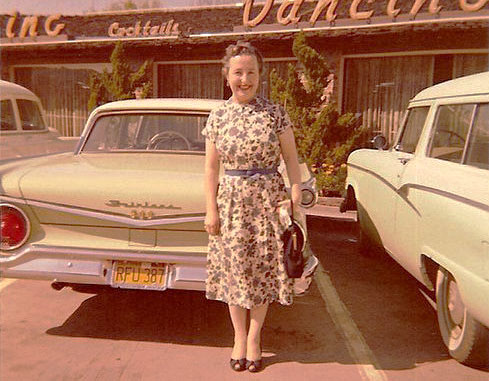 Before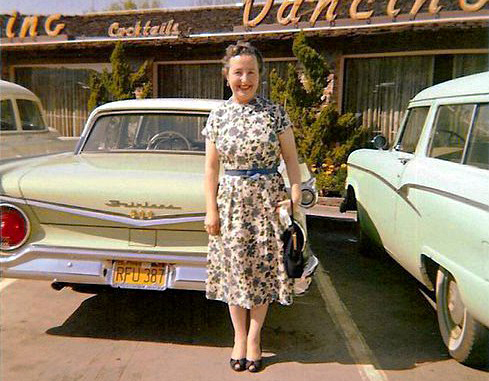 After
Your withering images deserve looking that beautiful too! So, how can you revive and color correct old faded photos with PhotoGlory?
Way 1. Perform Pro-Level Color Correction in a Click
Not a tech savvy? Don't know much about photo editing? Not a problem! With PhotoGlory, you just need to make one click in order to achieve a perfect result. Start with opening your photo. Then go to the Enhancement tab and check the Color box. PhotoGlory will analyze every object in your photo and correct its colors automatically.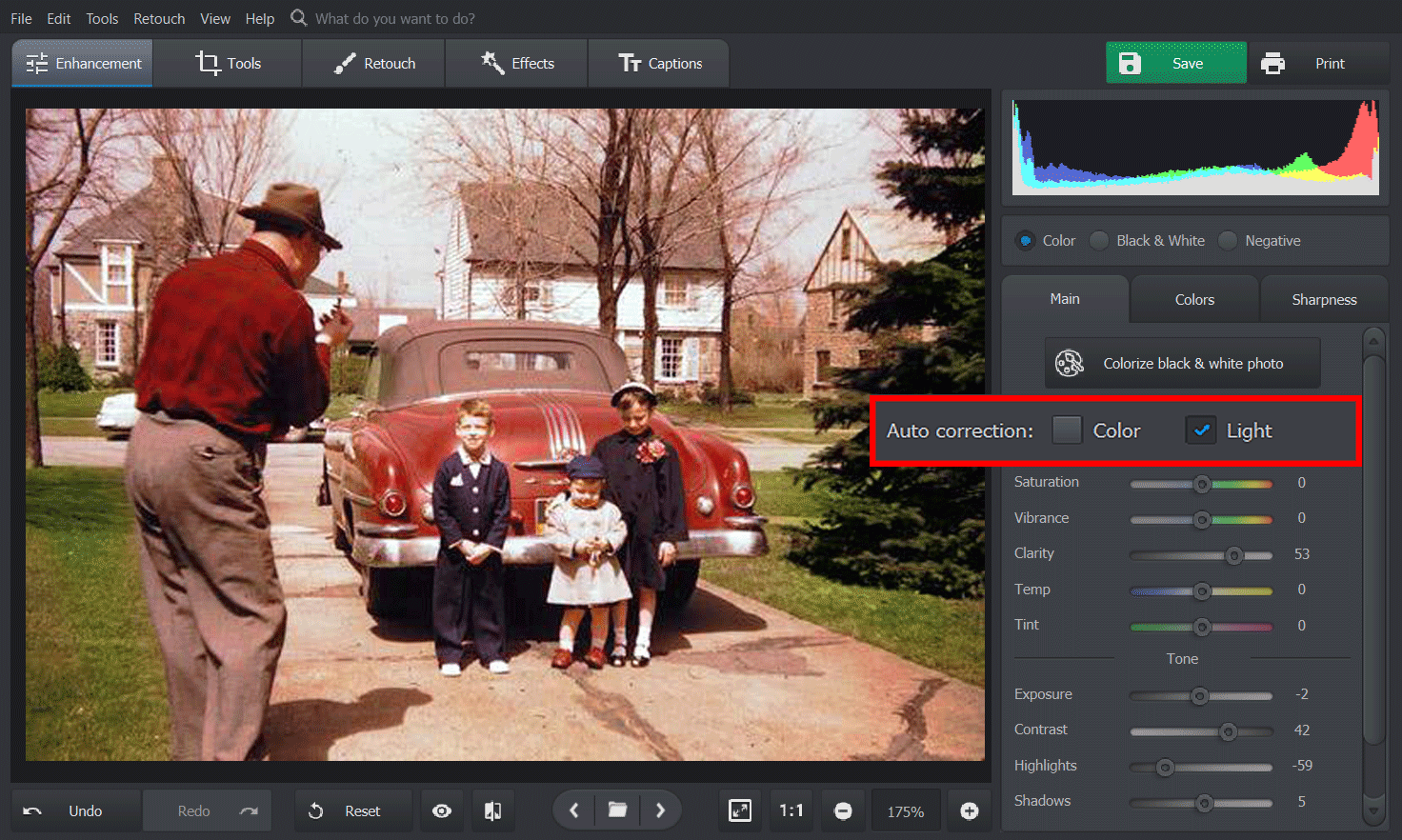 Way 2. Correct the Color in Old Photos Manually
Prefer to have total control over editing? Then this way is for you. Adjust settings for each color separately simply by dragging a slider. Open the Enhancement tab, then proceed to Color. Use the Hue sliders to change the colors completely. Increase Saturation and Luminance to make certain tones pop out. Let the greens shine like emeralds under the sun, cover skies with a deep blue, turn yellowish dawn into crimson dusk - now you can do all of that with ease!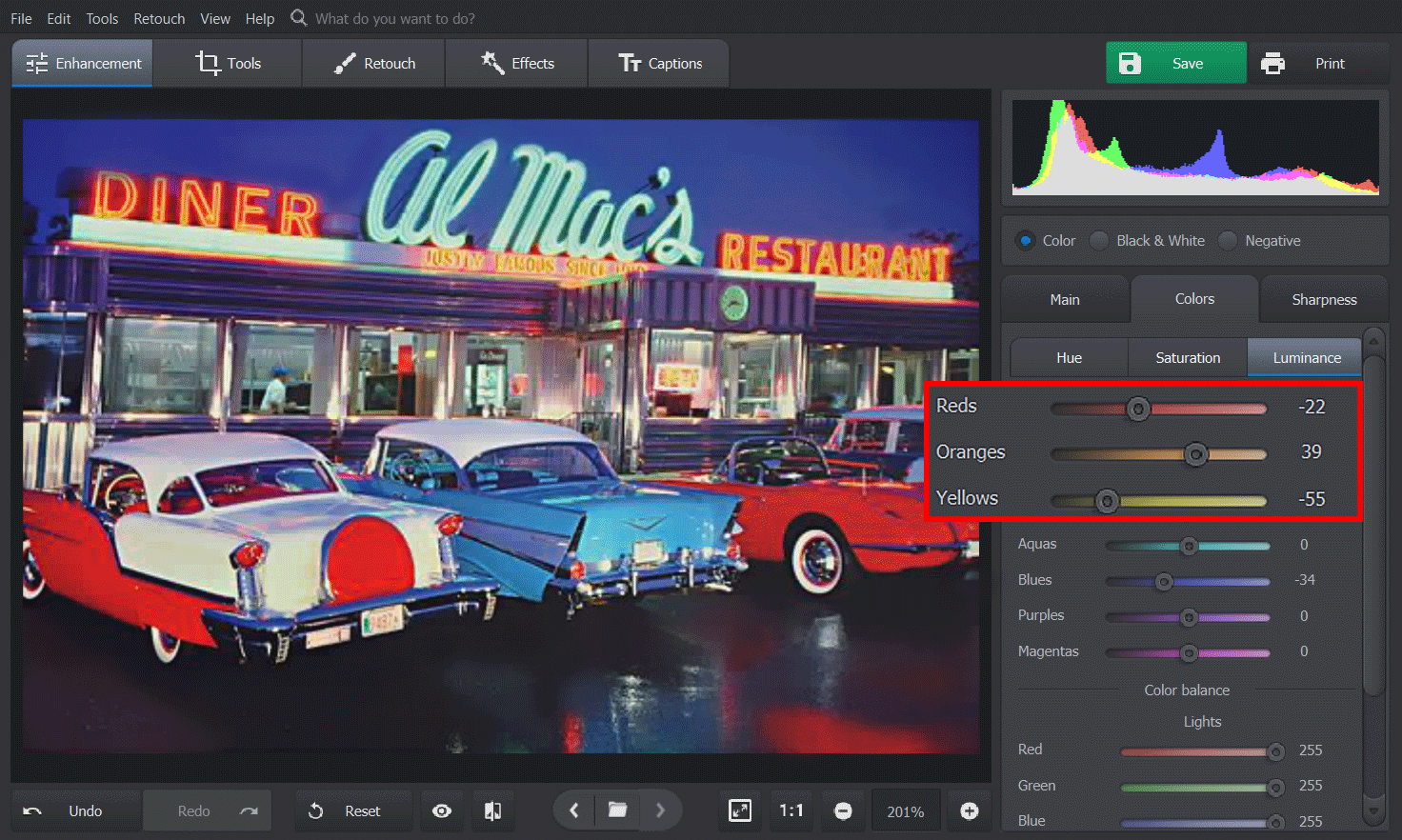 Way 3. Adjust Colors Like a Pro Using Curves
How to color correct old photos like a pro? Work with Curves. This tool is based on the RGB color model, where the primary colors - Red, Green and Blue - mix together and turn into thousands of hues and shades familiar to all of us. The Curves tool is usually presented as a grid with several sectors and a line in the middle. The top sectors stands for the lightest tones, while the sectors at the bottom - for the darkest. The areas between them represent the middle tones.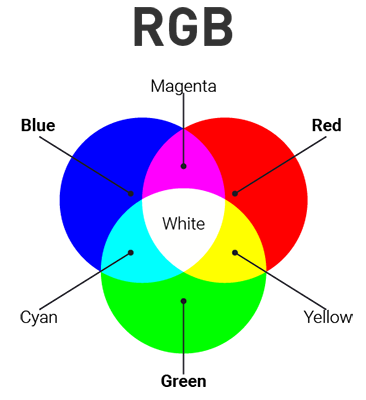 According to the RGB model, each color has a pair, so when you drag the line across the grid, you decrease one tone and increase the amount of the other.
For example, here we have a photo with lots of red color in it. Let's fix it. Go to Curves, switch to the Red channel and move the line down to get rid of the extra red color. In order to have total control over the tones, you can set up points on the curve. Each point will represent a certain tone, and it won't be changed while you continue editing.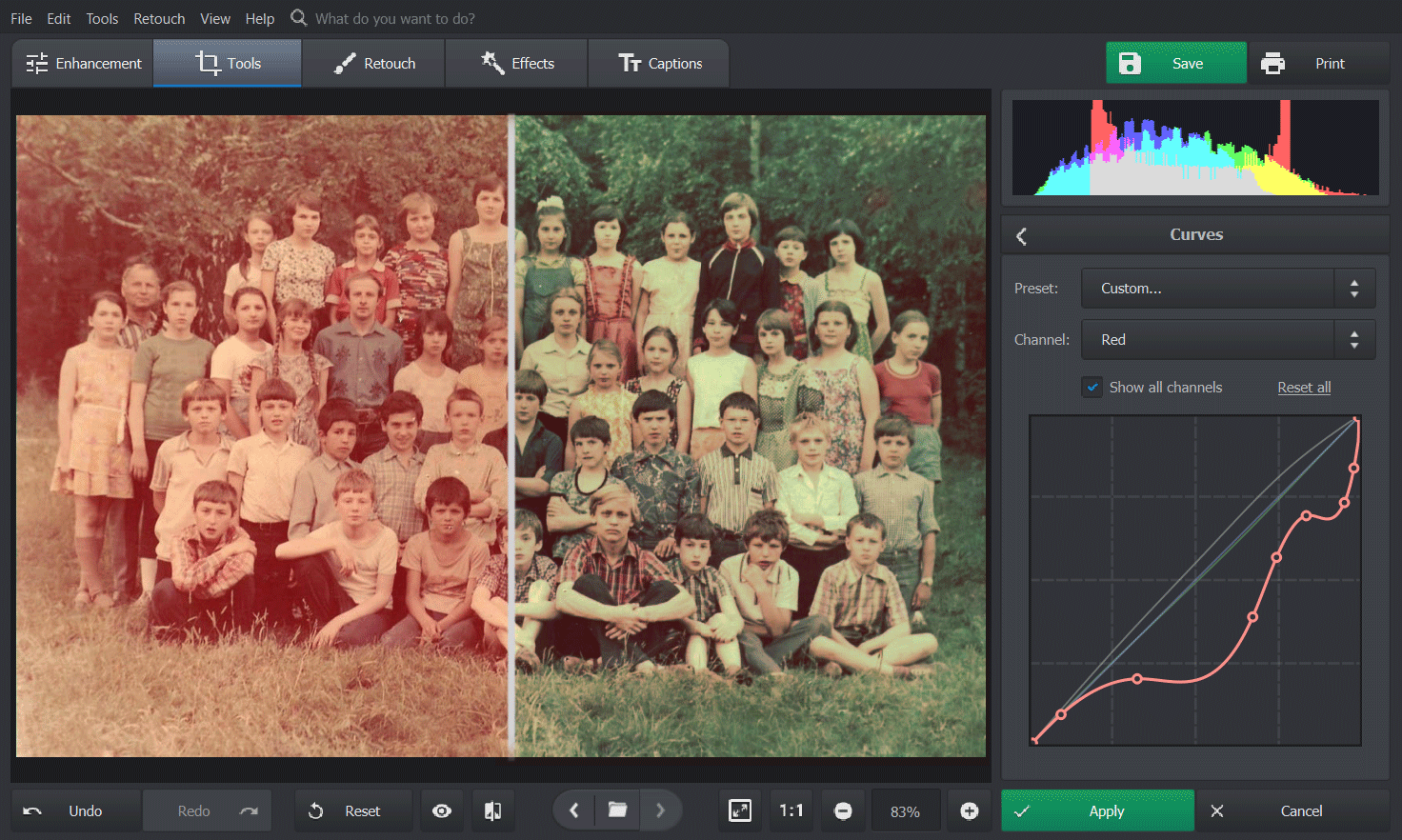 After fine-tuning the Red channel, the picture has gained too much green. Let's switch to the Green channel and move the line a bit closer to the middle. Now the picture has a perfect color balance: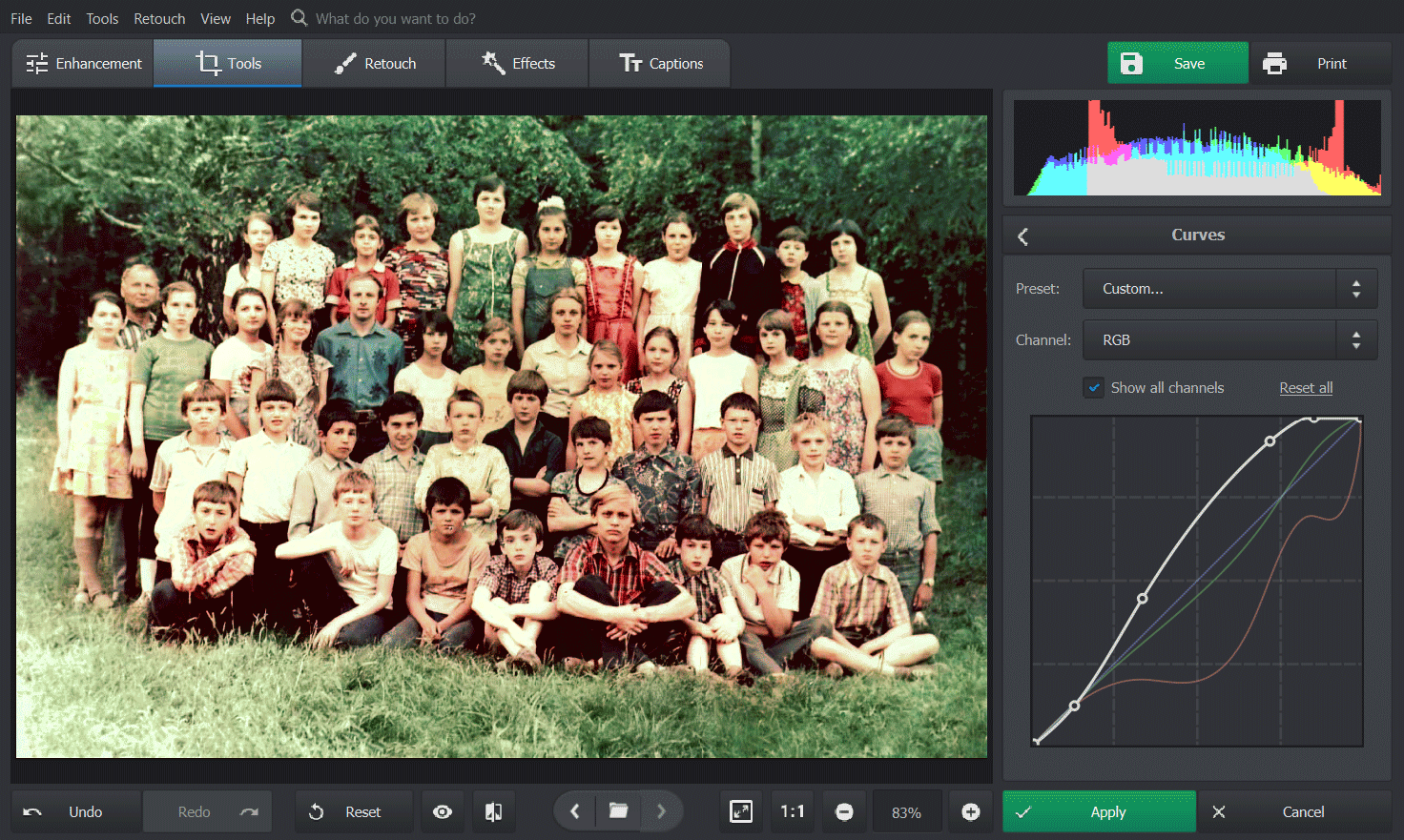 Another Way You Can Check Out
There is another way of correcting colors, which is similar to Curves, yet much more complicated. This way is based on Levels. Check out this
video tutorial from Matt Kloskowski
to learn more.
What Else Can You Do to Improve the Quality of an Old Photo?
Apart from faded colors, old photos have hundreds of other problems. The most common issues are scratches, fingerprints, spots and tears. How to restore faded photos which are pretty damaged? With PhotoGlory, you can patch up your images in a flash. Want to remove a tear? Use a convenient brush to paint over damaged areas and the software will fill them automatically.
Need to conceal a spot or a large leak? Simply make a selection around the object and select an area for replacement. Easy as ABC!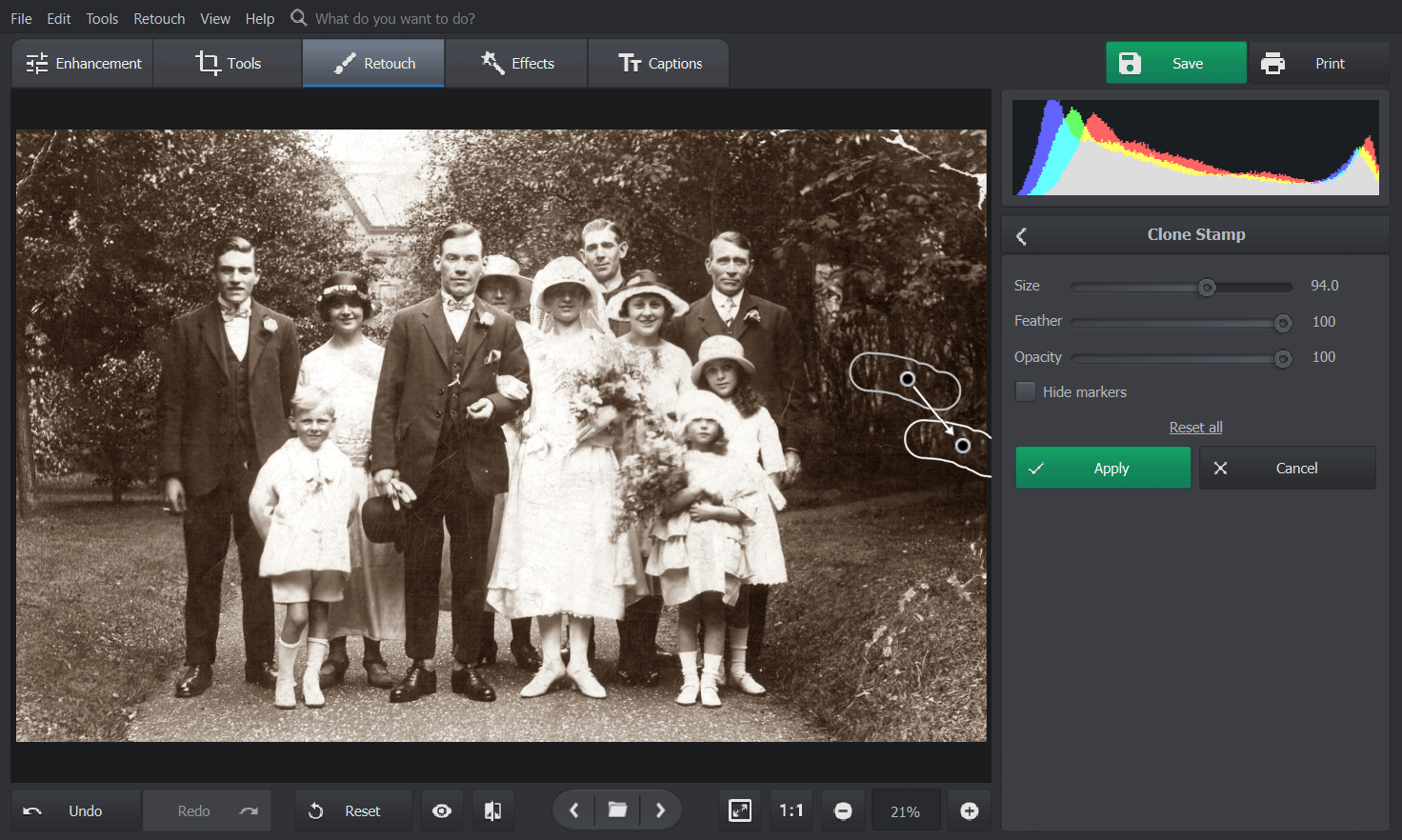 Finally, you can polish the result by adding a bit of style. Play around with 100+ photo effects: choose from Vintage, Quick Enhancements, Movies, etc. Just select a preset you like and it will be applied automatically. Decrease the effect strength by dragging the slider in the middle.
That's it! We suggested 3 different ways for color correcting old photos without using Photoshop. Choose the one that's the best for you, depending on your photo editing knowledge and free time. No matter what path you'll take, you'll nail the task with PhotoGlory!