How to Fix Old Photos by Yourself
There is no better way to go back in time than with old photographs. Sadly, such delicate things quickly wither and fall apart. Is there a chance to save them and give them a new life? Well, you can have them professionally fixed. Don't want to picture the enormous bill you'll have to pay? Neither do we.
Luckily, you can now fix your damaged pictures at home, right on your PC. Do it with PhotoGlory, a smart old photo editor that can help you easily remove all the defects and bring back lost colors to your pics in one click thanks to AI technologies. So if you want to keep your family archive intact, keep on reading to find out how to fix old photos hasslefree!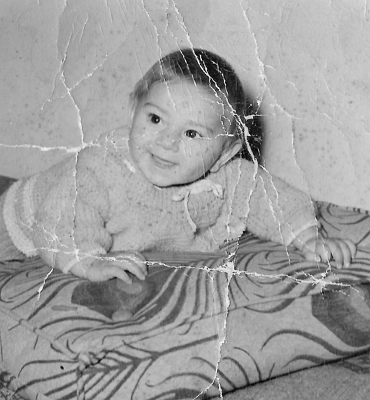 Before
After
Want to do the same with your images? First of all, you need to digitize your old paper photo. You can either run it through a scanner, or you can reshoot it with a digital camera, then upload it to your PC. Next, you'll need PhotoGlory. Download this photo restoration software for free, open your damaged photo in it, then follow this simple guide.
How to Fix Old Photos Step-By-Step
Think you don't have the chops to clean up old photos by yourself? You shouldn't - it's easy like counting to 3.
Step 1. Cut Away Damaged Edges
Most likely your old picture has battered corners and ripped edges. Rather than wasting your time trying to mend them, you can simply crop them out. Start PhotoGlory and open your old picture in it. Switch to the Tools tab and pick the Crop tool. Adjust the frame to leave the ripped edges outside it.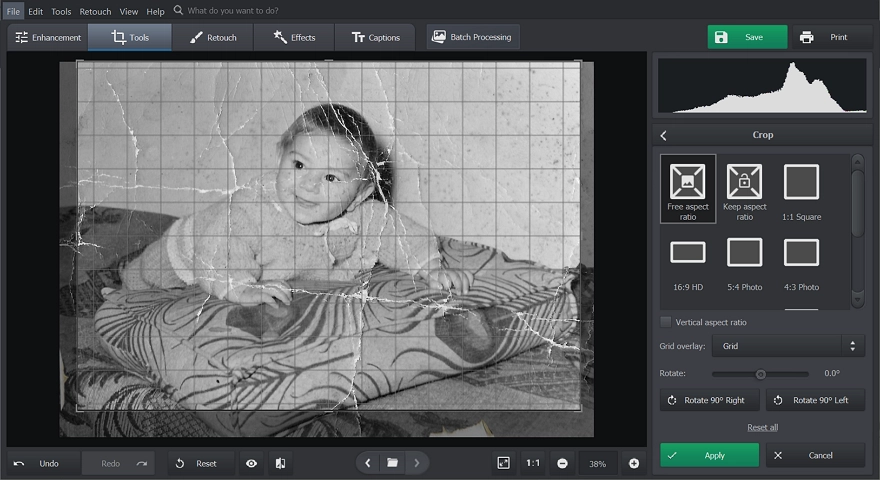 Step 2. Fix Your Photo Automatically
Thanks to artificial intelligence, you can effortlessly remove the scratches, cracks, and stains on your old picture. Just click the Restore Old Photo button in the Enhancement tab, and the neural network inside the software will detect and eliminate all the imperfections.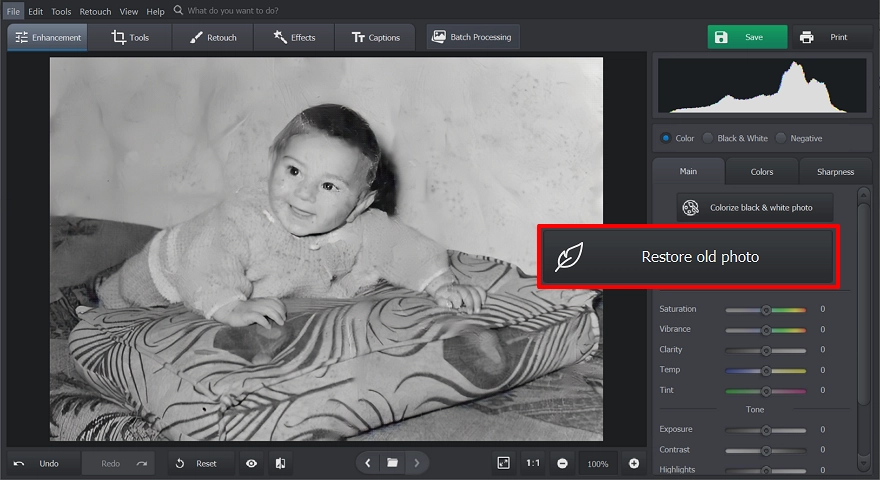 Step 3. Get Rid of Any Remaining Defects
If your photo was too damaged and there are any defects left, remove them manually. PhotoGlory comes with three smart tools to erase all the imprints of time that ruin your old pic. The Healing brush is perfect for removing fine creases and smaller stains. The Clone stamp tool can help you get rid of bigger tears and blobs. If you need to cover large defects or recreate missing parts of the picture, then go with the Patch tool. All these tools are easy to use and come with mini tips that help you master them quicker.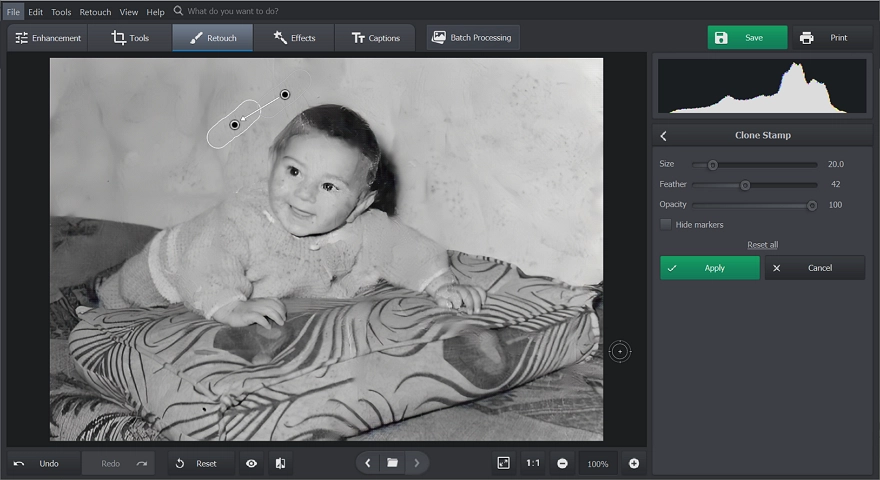 Step 4. Add a Splash of Color
If your old picture is grayscale, you can easily colorize it. Go to the Enhancement tab and click the Colorize button. PhotoGlory will analyze the objects in the picture and will select fitting colors for all of them. So you can be sure that the grass will be green and the sky will be blue.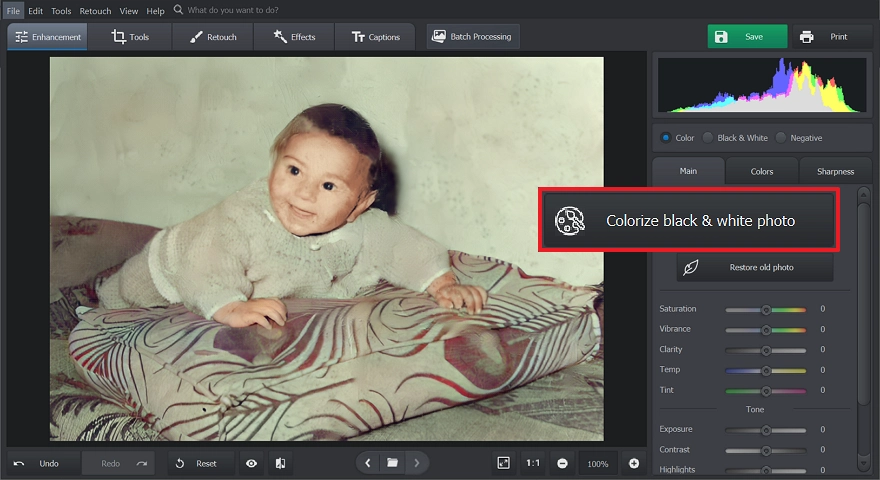 If you feel like some parts of your newly-colored picture could use some touching up, do it manually. Under the Retouch tab, you'll find the Coloring tool, that'll allow you to paint your photo by hand. You can either select shades from a color picker or use the eyedropper tool to pick colors right from the photo. There is also a color panel of the photo's 20 prevailing hues that PhotoGlory has compiled after the picture's colorization.
In case your old photo had once been bright, but now has lost all the juice, you can bring the colors back to life with Auto Color Correction from the Enhancement tab. Just a click, and the vibrance and contrast of your picture will be restored.
Impressed with the result? You now know how to fix old and damaged photos step by step. The time has come to put it into practice. Click the button below to start restoring your family photos yourself!
Download Now!
For Windows 11, 10, 8, 7
Check out PhotoGlory's other features for fixing old pictures below to see what else you can do to make your photos look like new again.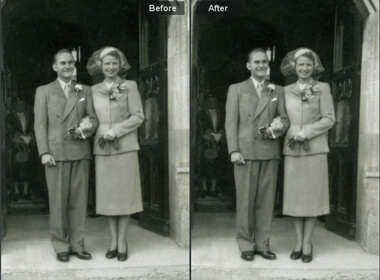 Fix Geometry Flaws
Scanned or reshot your picture at a weird angle and now it's tilted? This is where PhotoGlory's Geometry tool comes in handy. With it, you can straighten a slanted picture in a second. Even warped pictures can be easily remedied. Whatever the cause was - wrong shooting angle or a poor choice of the lens - you can get rid of any kind of distortion just by dragging a slider.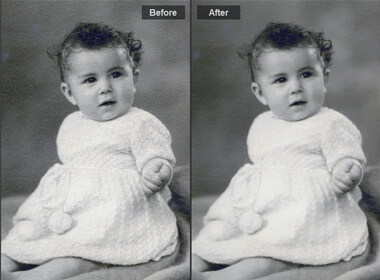 Clean Up Grainy Photos
Ah, this old school grain - every film photograph had it. It sure gives a nostalgic touch, but it can also ruin the whole picture. An effective way of fixing old photographs is to remove the noise. With PhotoGlory, you can delete all the distracting grain with a slider drag and enjoy a clean photo.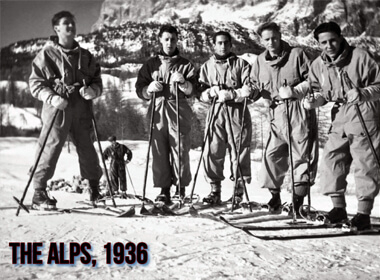 Add Stickers & Captions
Have an old picture of a memorable event? Then mark it with a date. PhotoGlory comes with a library of stickers that look like plaques, banners, etc. Add them to your photos, then insert a caption. With tons of professionally designed text styles, you can highlight the delicacy of a 20's wedding photo or the free spirit of the 70's era.
Alternative Ways of Fixing Old Pictures
Looking at all the options available to you? Check out some programs below that we suggest you try.
PhotoGlory that we looked at above is currently available on Windows PCs only. If you want to do photo restoration on your Apple devices too, check out Inpaint. This program allows you to neatly and efficiently erase all the defects that you mark out manually. Learn more about how to clean up your old photos with Inpaint in this guide. The only drawback is that you have to buy the full version to download the finished result.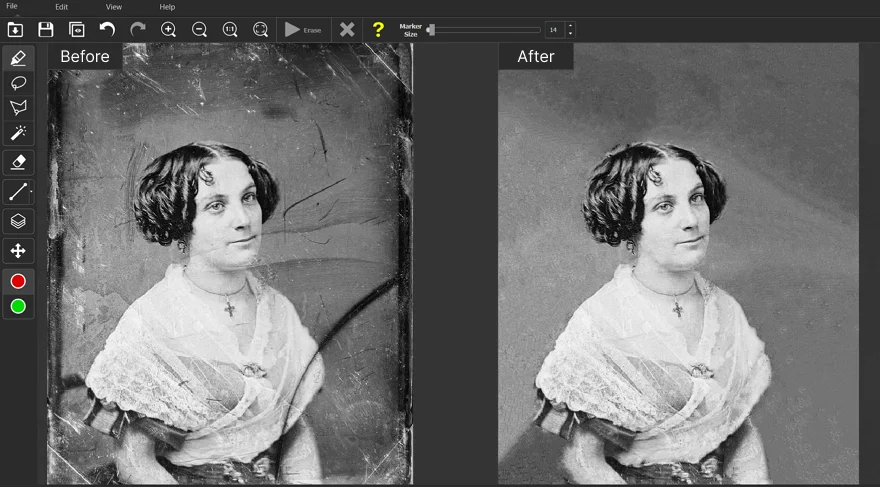 If you're okay with challenges, then you can try fixing old photos in Photoshop. Find the 7-step tutorial using this popular software by following the link. Photoshop may not work for you if you're only going to clean up a few images because you'll need to get a subscription to start editing.
If you don't want to fix the photos yourself, leave this task to expert artists from Image Restoration Center. They can not only repair your severely damaged photos but even colorize them. The only downside is the price - $34.99 per photo.
Now you know how to fix old photos in 4 different ways. Choose the option that best suits your photo's condition, your budget, and skill level. If you're still in doubt, we suggest you stick with PhotoGlory because you already have a step-by-step tutorial and could see its work in action. We hope this article was helpful to you. The choice is all yours now!